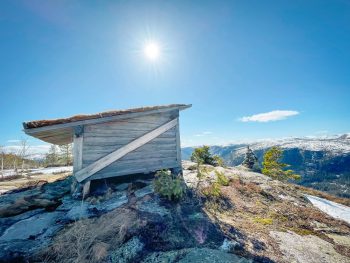 Gapahuk Straumsfjell accommodation
Norway's most beautiful view from a Gapahuk with the possibility of accommodation at the top of Straumsfjellet via Ferrata, a free experience.
Gapahuken can be reached by our climbing trips or you can walk the path up.
Space for approx. 10 people, think infection control.
The trip can e.g. starts in the afternoon (evening) to go up in the evening sun for an unforgettable trip.
All waste must be carried down.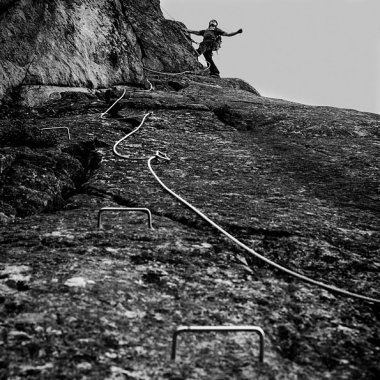 Via Ferrata Straumsfjell on your own.
Via ferrata on Straumsfjell is one of the very best in Europe. Our guests are lyrical about this product.
With or without a guide?
Have you walked it before? Are you a mountain climber? Have you walked other Via ferratas in the same degree of difficulty ie D, very difficult? Kyrkjeveggen, Åndalsnes or Loen. Straumsfjell is said to be a little more difficult than these. Or if you are well trained and used to being on steep mountain slopes, then you can go without a guide. Remember that everyone in the group must come up.
If you are unsure of your and your friends' climbing ability, we recommend that you go with a guide.
The cost of rescue is NOK 3,000 + per person.
Climbers under the age of 18 must go with experienced adults who are responsible for them.
You go with other people in groups at 10 and 11.
Attendance at helle camping 30 minutes before departure.
The weight limits are between 40 - 120 kg.
Opening hours: From 1 April / May to mid-October depending on the weather
Prices.
Climbing fee NOK 600
Rental of equipment complete NOK 550, -
NOK 1050 with equipment rental and walking alone.
Gloves 90 kr.
Bring:
Packed lunch, extra energy, at least 1 liter (at least 2 liters if it is hot) drink preferably in a field bottle or bottle on a leash.
Clothes according to weather. Rain jacket in danger of rain.
Shoes with good grip in the mountains. Good shoes give you better conditions on this route.
Rubberized gloves or leather.